One platform, all your favorite shows and movies.
AirTV Player integrates your streaming services in one place. Now you can get all the content you love, like Sling TV, over-the-air (OTA) local channels, Netflix, and more, on one simple and familiar platform. And because AirTV Player is supported by Android TV, you get instant access to a world of content and apps through Google Play.
Modern TV with a familiar feel
Don't ditch the familiar experience of traditional TV, just bring it into the modern era of entertainment. AirTV Player gives you your favorite video and app content in one easy-to-navigate place with a guide, and just one remote to manage your AirTV Player, TV, and sound system. Get today's expansive selection of entertainment without the complexity.
Voice control and remote finder
Need a hand?
The AirTV Player remote lets you search content with the sound of your voice. From genres to actor names and program titles, find what you're looking for faster with voice support by AirTV Player. And when we say "all your content," we mean it: Search everything from shows and movies to apps. Goodbye endless browsing, hello instant gratification.
Find your remote.
Never lose the remote again. Just push the Remote button on the AirTV Player and your remote will light up and beep until you find it.
Picture like you've never seen.
AirTV Player delivers beautiful picture quality to your 4K UHD or 1080p HD TV.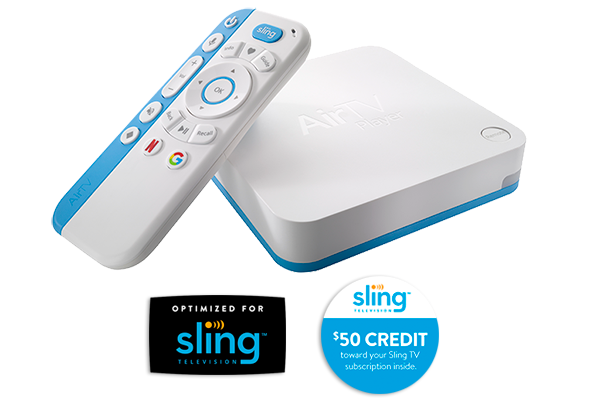 Cut the cord. Keep your experience
Watch Sling TV, Netflix, local channels and more. All together in one experience. With one easy-to-use remote.
Easy setup, no waiting for cable installation or miscellaneous fees
Watch all your free, local broadcast channels - ABC, CBS, NBC, FOX, PBS, Univision and others*
One remote controls your AirTV Player, TV, and audio device
Just $99.99 and includes $50 of Sling TV programming credits so you can add the Best of Live TV service whenever you want
Save $10 when you buy the AirTV Player + AirTV Adapter
*Availability subject to your geographic location and the location of your antenna in your home. Watching OTA local channels requires AirTV player, AirTV adapter and antenna. Each sold separately.

Internet connection needed.